vtsnowedin wrote:

Little John wrote:

vtsnowedin wrote: Considering that 70% of petroleum is used in transportation (US figure) and only 3% in housing the potential for carbon reduction is much higher in transportation. What can be done on grid decarbonisation is being implemented as well as can be expected. Just switching from coal to natural gas has made significant reductions.

70% of petrol is used on transport because transport uses petrol. You point is?

That that is the largest source of CO2 emissions worldwide and has to be addressed to have any significant impact on the problem.
Nope.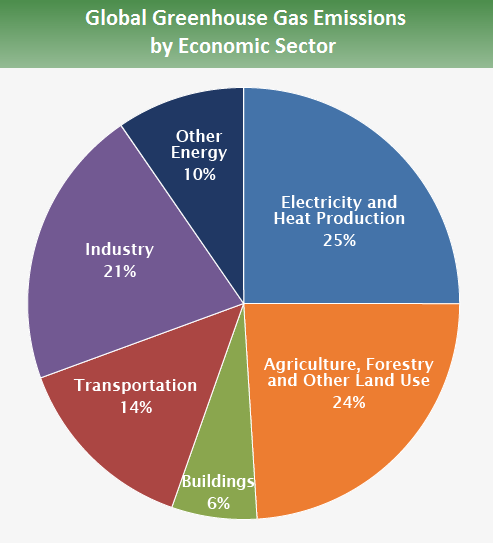 The above infographic is taken from the EPA's own figures, which are, themselves taken from the IPCC. They are a few years old now, but will not be that far off.
To summarize the nonesense I have read on here over the last few days:
Firstly, that ICE vehicles need to be replaced with EVs because EVs produce less CO2 than ICE vehicles and if they are replaced this will only raise electricity consumption by a relatively small amount. However, if it will only raise electricity consumption by a relatively small amount, then the carbon produced by the existing ICE fleet must be commensurately relatively small. 14%, of course, is not tiny. But, then, neither is it " the largest source of CO2 emissions worldwide".
Secondly, nowhere is there any acknowledgement of the 60-70% energy loss in creating and transporting electricity to your home and the commensurate degree to which this will require more hydrocarbons to be burnt at the power station to compensate for this when increasing the supply of electricity for an ICE fleet replaced with EVs. This should be fully factored into any comparison of the carbon credentials of these two forms of locomotion otherwise any comparison is utterly meaningless.
Thirdly, even if we charitably assume that after all losses incurred in production and distribution of electricity are taken into account and assuming that even with those extra loses total carbon pumped into the atmosphere due to EVs is less than for ICE vehicles, it is not unreasonable to speculate that reduction will be nowhere near as dramatic as some of the more breathlessly excited proponents on here are assuming.
Finally, given that the larger proportion of CO2 is produced elsewhere in already existing technologies and societal infrastructure and given there is massive scope for improvements in the efficiency of those existing technologies and infrastructure without the necessity of implementing an entirely new industrial sector with all of the extra technologies and infrastructure that would need to be brought into existence as a consequence, it makes precisely zero sense to replacing the ICE. fleet with EVs
All I am seeing here is the usual techno-fetishistic wankathon masquerading as "being Green".